We help build your business the way it works best
It is in our business to know what shall prove to be the best decision and the best action taken in the best interest of the enterprise. When businessmen want to go about an idea and wisely consult with experts like us, we break it down for them. The whole exercise of evaluating the intentions, considering the intricacies, gaining clarity, making decisions and setting the ball rolling, comes naturally to us.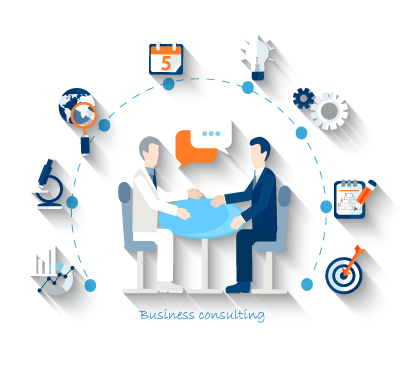 The whole exercise of setting a business up
We understand that not every businessman could be sitting before us with all the pieces of the puzzle ready to be placed right to bring forth that total picture, that is his/her business venture. Even before we start solving the puzzle, we do reality check in many directions. We examine the resources, know-how, finances and passion that the particular business/business idea has packed in its ammo to propel it forward well enough, to perform profitably in the long run.
We learn and keep learning and translate our knowledge to our client's advantage in choosing a business option or making a business decision. If the business is new, we lay the foundations with absolute prudence and realism. For a running business to grow, revive or restart, we give all the guidance we can, give the best resources we can find, and sort out the hurdles in the way of realizing the enterprise's new or established goals.
Then, there's always the legal compliance angle, along with the funds management for the business, done with complete integrity for the enterprise. We set the records right for the business to forgo the hassles in compliance for business activities. We could be working on the business's fundraising attempts, investment ideas, financial updates, operational upgrades, staff training, and much more, all of which are directed to one motive; to create a sound business for a successful entrepreneur.